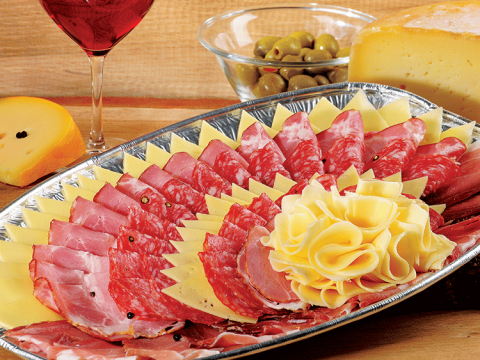 Platter orders

Let us take care of your guests!
At our markets, you can find a wide selection of cured meat products and cheeses in the deli section.
We prepare delicious platters to your liking for private and business parties, birthdays, christenings, first communion and confirmation celebrations. Our friendly staff is waiting to assist you in selecting premium delicacies to treat your loved ones, guests and business partners. All you need to do is call us or come in one day earlier.
Cookie platter orders

The flavours of tradition on your table!
Enjoy the magical flavours of homestyle cookies of exceptional quality that will take you back to your childhood and the cookies your grandmother used to make. We offer tea biscuits, vanilla flowers, peaches, chocolate cookies and others. Come to the Stridon market, where you can find fresh, homestyle cookies made with a special dose of love, at affordable prices. Try them, take them home and treat your loved ones.
Enrich your happy moments with family and dear ones with the delicious cookies of the Stridon bakery, and enjoy some sweet satisfaction.


Beverage return

Be sure to have enough beverages for your party!
And if you don't open it all, return it to us! This is valid for all non-alcoholic beverages, beer, wine and other alcoholic beverages. Return your purchases in the original packaging, including packages and boxed (also valid for individual bottles for wine and alcoholic beverages) with the billwithin several days. We will refund cash payments in cash, while credit card payments will have the refund credited to the account.

Dear customers, citizens and businesses!

Return empty PET packaging, glass non-refundable packaging and Al and Fe cans of a volume greater than 0.20 L at our sales locations to receive a refund of 0.50 HRK per unit of packaging.
The list of shops where empty returns are possible is available HERE