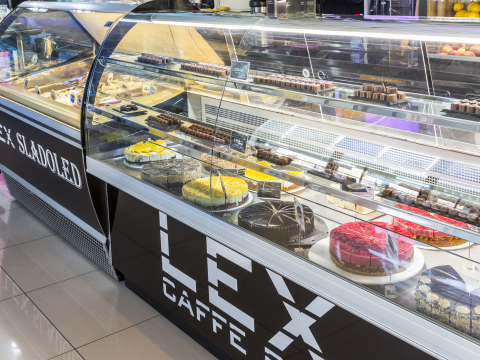 Lex 1
Sharing a coffee is the perfect way to spend time we those we love. Stop by the Lex caffe bar on the ground floor of City Center One East, enjoy the lovely atmosphere, the tasty Superiore coffee, freshly squeezed juices and irresistible desserts. We offer 11 kinds of handmade pralines made of the finest Belgian chocolate, and 15 types of ice cream made according to an Italian recipe. There's sure to be a flavour for everyone.
After enjoying a little shopping, relax with a cup of Superiore coffee, or one of our many refreshing beverages. We offer a wide selection of hot and cold beverages, especially freshly squeezed juices made from a dozen types of fruits and vegetables, to be combined to suit your taste.
For all those for whom this pleasure is not complete without a cigarette, we offer a separate air-conditioned room where smoking is allowed. Here you can enjoy watching the game, or surf the web using our free super-fast WiFi. There is also a smart-point to charge your phone or tablet.
The pleasant atmosphere and friendly staff are sure to complete the experience.
Come and enjoy your time with us!

Caffe bar Lex
Slavonska avenija 11D
10000 Zagreb
Tel.: +385 1 2371 979
E-mail: lex.caffe@gmail.com

Hours of operation:
Monday – Sunday from 8:00 am to midnight